Join Frontier Precision and Blue Vigil for a Tethered M300 Live-stream Demonstration!

April 27, 2021
11:00 am – 12:00 pm [CT]


---

TETHERED M300 LIVE-STREAM DEMO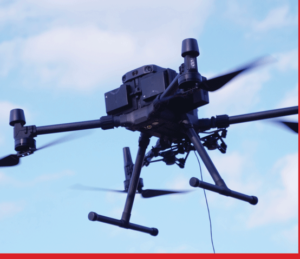 Watch a comprehensive live-stream demo of the DJI M300 with the Blue Vigil Power Tether System that will work with your entire fleet providing unlimited flight times.
IN THIS DEMO WE WILL COVER:

• Preflight Set-up
• Takeoff
• In-flight Situational Awareness
• Landing
• Relaunch without Tether
Join us to see why the US manufactured RS1000 is the best tether investment for your fleet today.
We Are Drone Innovators


Blue Vigil manufactures, distributes, and supports tether power systems for drones. The company has designed and tested a reactive spool tether system. The system is self-contained, includes proprietary power management circuitry, flight control system and can connect to most off-the-shelf UAVs. Therefore, drones powered by the Blue Vigil ground based tether systems can remain aloft as long as power is conveyed through the tether and do not require a dedicated operator. Blue Vigil was founded and is managed by a team of pilots and UAV experts. The team saw an unfilled need in the UAV industry for a tether system which was universally compatible with UAVs. Blue Vigil was founded in partnership with a Harrisonburg, Virginia Investor Group and James Madison University. Blue Vigil was launched in 2015.
---

Have questions or want more information on this FREE live-stream event?
CONTACT
Mike Klarenbeek, UAS Sales and Services Specialist
mikek@frontierprecision.com
605.221.4401 / Direct | 605.221.4400 / Local

For more information Click Here