We might not be able to meet in person this year, but we are still just as excited to talk with you about our latest geospatial products and services.  Frontier Precision leads the way with specialized field mobility workflows alongside Esri ArcGIS services.  Frontier's Mapping & GIS team can help solve complex data collection challenges by integrating Esri GIS and field operations.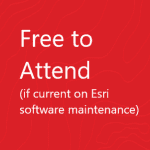 If you haven't already, please register to join the 2020 Esri User Conference to experience world's largest virtual GIS conference, July 13 – 16, 2020.  Search for Frontier Precision's exhibit in the Esri UC EXPO then browse our unique capabilities revolving around rugged and reliable mobile data collection systems.
During the designated Expo times, we will have personnel available to answer your questions relating to:
Don't miss out on this unique opportunity to learn, get inspired and have real-time networking opportunities without leaving your office!
For more information, contact Jacob Wittenberg, Frontier's GIS Services Consultant or your local Frontier Precision MGIS sales representative.