There has been a contingency of geospatial professionals in Idaho that have long sought to establish a real-time GNSS network in Southeast Idaho.  Land surveyors, GISers, academics, and various government agencies have put in considerable effort to create a plan for a publicly accessible real-time network, or VRS, in the state but challenges like a lack of funding have stood in the way of any real implementation.  A few months ago Frontier Precision joined a group of collaborators to take action and get something implemented.  Partnering with Monsen Engineering, Idaho State University, and the Utah Automated Geographic Reference Center (AGRC), Frontier Precision has played a role in establishing an operable real-time GNSS network in southern Idaho.
The Utah AGRC has experienced longstanding success in building out a statewide VRS in Utah.  The state of Utah has invested in the necessary reference station hardware, VRS network management software (Trimble Pivot), servers, and personnel to maintain a successful network that provides real-time centimeter-level accuracy to compatible GNSS rovers throughout the state.  The network is called TURN GPS.  In recent years, the Utah AGRC has formed strategic partnerships and has built out the network to include portions of neighboring states that would benefit both the nearby communities as well as the outer borders of Utah.  Clark County, Nevada, Southwest Wyoming, Mesa County, Colorado, and now Southeast Idaho have joined the TURN GPS VRS and are providing options for low-cost, dual-constellation (GPS AND GLONASS) survey-grade accuracy to GNSS users.
While a statewide network is not yet in place in Idaho, the collaborators decided that starting to build out a network in Southeast Idaho made the most sense.  Using several existing base stations and adding others, this phase of the expansion will provide centimeter level VRS corrections over the internet from the Magic Valley on the West to Idaho Falls on the East.  There already existed base stations in Jerome (here at Frontier Precision), Twin Falls (CSI), Pocatello (ISU), Blackfoot, and Idaho Falls.  This was a great start.  With base station hardware donated to the cause by Frontier Precision and Monsen Engineering, additional stations are being installed in Rupert, Aberdeen, and Soda Springs.  These 8 stations will provide enough density to the network to provide accurate corrections along the most populated portions of Southeast Idaho.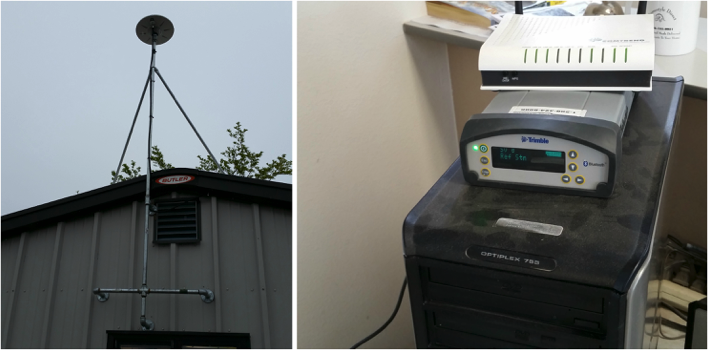 As of today, six stations are actively streaming data into the TURN GPS network, Jerome, Twin Falls, Rupert, Pocatello, Blackfoot, and Idaho Falls.  While this is close to a full network solution, these stations can be used as single baseline solutions today.  With the Aberdeen and Soda Springs stations scheduled to be online within the next couple weeks, we are not far from a full network solution.
The expansion of TURN GPS into Idaho is a big deal.  It provides Idahoans with an option to get 1cm accuracy real-time, in-the-field with equipment like a Geo 7X Centimeter kit, an R8, R10, or another capable device.  You could even use the service with the new Trimble R1 for more consistent and reliable submeter accuracy with your smartphone or tablet.  This option opens up the opportunity to use existing equipment in new ways and can be a tremendous time and cost savings because you won't have to postprocess your data or you won't have to buy your own base station.  At the low cost of $600 per year, the Utah AGRC has made this service very affordable. Compare that to bringing your own base station receiver and UHF radios which could easily run as much as $30,000, not to mention the time and hassle of setting everything up.
Frontier Precision is co-hosting Idaho RTN Demo events this week.  You missed yesterday's event in Jerome, but there is one in Pocatello at ISU today and another in Idaho Falls tomorrow.  This will be a good chance to learn more about the network, get a demo of how it works, and ask questions to people who know what it's all about.
For more information on how a VRS works, check out our earlier post, Differential Correction Sources: SBAS, RTK Base Stations, and Real-time GNSS Networks.