Monday | July 17, 2017 11:00 AM – 12:30 PM CDT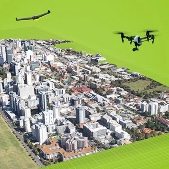 In this webinar we will give attendees an introduction into one of the most commonly used UAS processing softwares on the market, Pix4D. The Pix4D software enables UAS operators to utilize high quality UAS imagery, and from it, produce quality deliverables such as digital elevation models, point clouds, orthomosaic images and more. This data can then be utilized in your current workflows to aid in surveying and design, construction, and forensics. This webinar will give a brief overview of how photogrammetry for UAS works, as well as show the basics in processing a full project in the Pix 4D software. We will also cover additional applications and tools such as Pix4D Capture and Pix4D Cloud processing and sharing. So join us, and learn how to make your UAS data processing efficient and easy!

This FREE webinar will be 90 minutes in length. We are sure you will find it informative.
For more information Click Here