Mapping and GIS
Mosquito/Vector Control

Frontier Precision provides complete office and field solutions for mapping, collecting and reporting Integrated Mosquito Management Plan activities. FieldSeeker® GIS for Mosquito Control software is designed to be the hub for all important data so it may be shared, analyzed, or updated throughout an organization.

Field and Office Solutions for Mosquito/Vector Control

FieldSeeker Windows ULV Adulticiding Extension

Frontier Public Notification App

Why the Esri Platform?
GIS Professional Services

Mobile Devices for Reliable Data

Collection

NEW!

FieldSeeker GIS for Invasive Plant Control Software
Drone (UAS) 
Sales and Services
FieldSeeker Core is a cloud-based system leveraging the Esri® ArcGIS® Online or ArcGIS Enterprise platform to provide users with simple, intuitive tools for mapping, collecting and reporting data related to mosquito control activities. Field and office users benefit from seeing a common up-to-date picture of their operations. Data is centrally located so it may be shared, analyzed, or updated throughout an organization.
FieldSeeker Core, an all-in-one app, includes tools for Larviciding with storm drain treatments, Surveillance and Services Request workflows. The cross-platform mobile app is easily deployed through the Apple Store, Google Play Store, and Windows Store and supports real-time connectivity with off-line editing capabilities. The FieldSeeker Core office suite is a Web app based on the Esri JavaScript API. There is nothing to install, access using any web browser. Since FieldSeeker Core is based on the industry standard Esri platform, the organization maintains full control and ownership of maps and data.
FieldSeeker Core Mobile App Tools
Larviciding Field Inspections and Site Treatments with Treatment Calculator
On-Truck Chemical Inventory
Storm Drain Treatments
QA Activities and Field Scouting
Adult Mosquito Trap, Landing Count, and other Field Sample Data for Surveillance Reporting
Manage Service Requests from Public
FieldSeeker Core Office App Tools
Dashboard Landing Page with Full GIS Mapping Capabilities with User Roles
System and Picklists Configuration
Management of Incoming Larviciding Data, Restricted Areas, Proposed Treatment Areas and Barrier/ULV Treatments
Surveillance Lab Data Entry and Management
Aerial, Truck, Drone Data Import
Optional VectorSurv Gateway Integration
Reporting and Data Search/Filter/Query and Review Options
Optional VectorSurv Gateway Integration for FieldSeeker Core
What started as the CalSurv Gateway in California is now known as the Vectorborne Disease Surveillance System, or VectorSurv. The system now serves California, Utah, New Jersey, Arizona, Hawaii, North Carolina, Tennessee, and the U.S. Territory of Guam with other states looking to adopt the system. Participating agencies use the VectorSurv Gateway to track, analyze, and share disease surveillance data for adult mosquito trapping, pooling, and testing; blood, tissue, or specimen samples (such as sentinel chicken blood samples and dead birds); and control efforts such as application treatments on larval sources.
FieldSeeker Core also supports collection and entry of all the same surveillance data, which is used in conjunction with other operational data to facilitate decision making and effective mosquito control activities. Because the same data needs to exist in each system for different reasons, FieldSeeker Core and VectorSurv have been integrated so that data can be synced in both directions eliminating double entry of voluminous lab data required for surveillance.
FieldSeeker Windows ULV Adulticiding Extension is an end-to-end system for managing and reporting adulticiding activities. It is a standalone system consisting of a Windows 10 desktop office application and Windows 10 field collection application.
FieldSeeker Windows ULV Adulticiding Extension is built on Open GIS technology. Esri licensing is not required for standard operation but can be leveraged for advanced functionality and syncing data with FieldSeeker Core software. Spray session data is recorded by the FieldSeeker Windows ULV mobile app and stored in the Windows 10 mobile device. Mobile data is synchronized with the office using online storage services such as Google Drive or Dropbox, to a shared folder through Wi-Fi, or using removable USB storage.
FieldSeeker Windows ULV Office App Tools
Configuration of System
View Data Operations by Date, Spray Session, and GPS Point
Management of Zones and Restricted Areas
Customize Restricted Area Warnings and Messages for Drivers
Create Line-based Spray Routes for Drivers
Service Request Integration with FieldSeeker Core
View Truck Spray Data in FieldSeeker Core
Print and Export Tabular Reports with or without Maps
FieldSeeker Windows ULV Mobile App Tools
Collect Spray Session Information from Compatible Sprayers with Data Output
Draw in Treatment Areas for other Sprayers with no Data Output
Driver Sees Themselves on Map which Rotates as Route is Driven
Driver Turns Sprayer on (Green Line) or Sprayer Off (Red Line)
Receive Restricted Area Warnings and other Instructional Messages
Easy to Read Status Bar for GPS, Sprayer On/Off Truck Speed, and Sprayer Flow Rate
Fleet Management capabilities by integrating with CompassTrac vehicle tracking system for real-time fleet awareness. Additional EsriArcGIS Online compatible CompassTrac software, hardware and recurring cell plan required.
Optional Truck-mounted Weather Sensor for Automatic Recording of WS/WD, Temp, RH, BP
Frontier's Public Notification app is a public outreach tool designed to facilitate communication between members of the public and mosquito and vector control and public health agencies. It consists of a mosquito and vector control agency branded mobile app for iOS and Android devices and a Web app for agency admins to manage information and notifications pushed to the public mobile app.
Public mobile users can download the free mobile app from the app stores and subscribe to receive notifications for selected areas of interest, to submit service requests, and to view activity status maps. The mobile app will receive push notifications based on the user's subscription preferences.
Agency personnel use the Web app to manage news and updates, notification messages, notification "zones" or areas, and other system settings.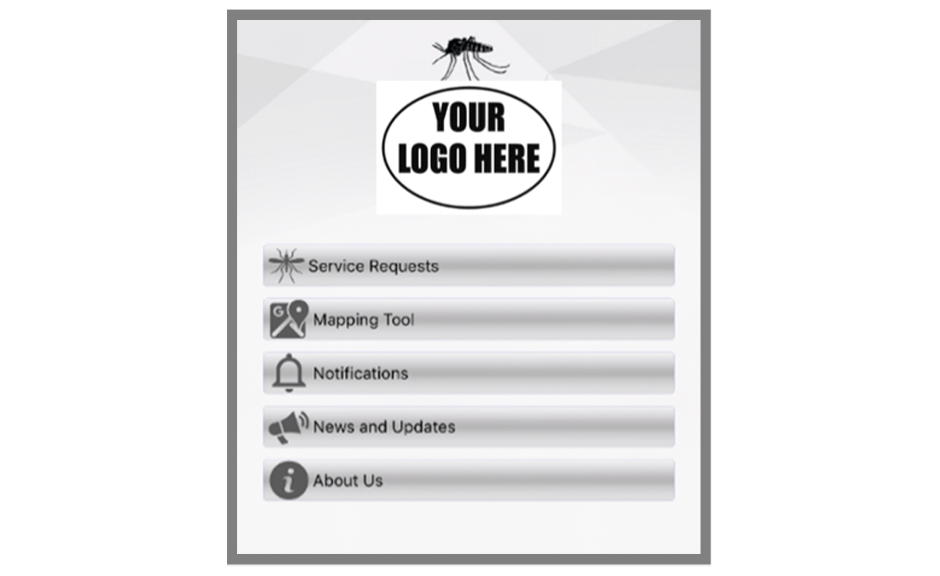 Public Notification Mobile App
Free Public Mobile App Available from Apple Store or Google Play Store
Public User Subscribes to Notifications for Selected Area of Interest
Public User Views Activity Status Map Information Provided by Agency
Public User Enters Service Requests
Public Notification Admin Web App
Agency Personnel Manages News and Notifications pushed to Public Mobile App and User Subscriber List
Agency Personnel Manages Status Maps and Area of Interests using Esri ArcGIS Online
Esri keeps up with advances in the Geospatial Cloud technology while Frontier takes care of the development of the mosquito and vector control workflows. Together we deliver a powerful solution so organizations are free to focus on important control activities.
Value of the Esri platform includes:
ArcGIS is a scalable system to expand as needs grow and change.
ArcGIS Online continually earns security and privacy certifications.
ArcGIS lends configuration and data editing flexibility of the FieldSeeker Core apps.
ArcGIS Online provides additional data visualization and data sharing options with FieldSeeker Core data.
Customer maintains full ownership and control of maps and data.
Frontier GIS Professional Services
Frontier Precision's GIS services group can offer innovative ideas extending other ArcGIS Online apps alongside the FieldSeeker GIS mosquito control workflows. We can help organizations achieve goals through focused consulting, configuration, implementation, training and technical support services.
Examples of extending the ArcGIS Online platform:
Integrating 

Service Request GeoForms

 or Survey123 Webforms with your external website, which allow the public to report on mosquito activity in their area.

Activity Status Web Maps can be utilized in a variety of applications to relay information to the public including: recent aerial or ground spraying activities, field inspections, open service requests, or the latest trap results or landing counts.

Email Notification and Service Request Routing system can be used to increase staff efficiency allowing more time spent on control measures while keeping residents more informed during the process.
FieldSeeker Core is an all-in-one app including tools for Larviciding with storm drain treatments, Surveillance and Services Request workflows. It is a cross-platform mobile app deployed through the Apple Store, Google Play Store, and Windows Store.
The FieldSeeker Windows ULV Adulticiding mobile app is only compatible with Windows 10 tablets. Compatible sprayers output data using a 9-pin RS-232 serial connection which is only supported by Windows 10 tablets with serial connections built in.
In general, any professional, late model field device, phone, or tablet that has reliable GPS and meets minimum specifications can be used. Our approach is to list devices which have been tested and are known to support the FieldSeeker Core and ULV software. For a full list of devices, contact: Mosquito Support.
Juniper Systems Mesa 3 Rugged Windows 10 Tablet
Proven reliability — Over 800 units are currently used by mosquito control and public health agencies.
Field Rugged Windows 10 Tablet
Large 7 Inch, Sunlight-readable Display
All-day Battery Life
Wi-Fi for Wireless Data Synchronization
High Quality GNSS Receiver
Optional RS-232 9-pin Port Needed for Truck Sprayers with Data Output
Optional 4G LTE Multi-carrier Capable
2-year Hardware Warranty with Optional Extended Customer Care Packages
Assembled and Repaired in Logan, Utah
Frontier Precision offers a variety of multirotor and fixed-wing drone solutions for mosquito and vector control applications. We can help determine the data deliverable product needed and recommend the best aircraft for specific applications. Whether you are interested in operating drones yourself or subcontracting a service provider to collect data for a project, Frontier can help you incorporate this exciting technology into your GIS workflows.
Mosquito Control Applications:

Drone Inspections
Locate Water or Vegetation to Identify Mosquito Breeding Sites
Applying Pesticides
Liquid or Granular Treatments
Mapping and LiDAR Applications
Map Large Areas Quicker
Benefits:
Promotes Safety having less People or Equipment in the Field
Lower Cost Alternative to other Ground-based Plane/Helicopter Applications
Micro-level Applications in Difficult Terrain or Hard-to-reach Locations
Rapid Deployment and Repeatable Approach to Traditional Methods
Frontier has access to many models and accessories to configure a system for your unique needs. However, we have put together some packages to make it easy to get started.

High Quality Image and Video
Economically Priced
Complete Solution for Entry Level Users
Application Example—Mosquito Breeding Site Inspections

Industry-leading Flight Time and Payload Capacity
U.S. Manufactured / Blue List
Application example – Granular Treatments

A Larger Area can be Mapped in a Shorter Period of Time
Three-dimensional Information about the Surface of the Earth can be Recorded
Application Example—Up-to-date High Resolution Mapping of Potential Mosquito Breeding Areas after Construction and Development, Storm Events, or Seasonal Changes Before and After Mapping to Demonstrate Effectiveness of Abatement and Mitigation Efforts
Optional Training
Throughout the year, Frontier schedules Part 107 training classes or offers on-site Part 107 remote pilot certificate training sessions on how to best use new drone systems for mosquito control applications.
One Day—Part 107 Remote Pilot Certificate Training
Two Day—Part 107 Remote Pilot Certificate Training and Equipment in Mosquito Control Scenario Training
Three Day—Part 107 Remote Pilot Certificate Training and Equipment in Mosquito Control Scenario Training and Esri Site Scan for ArcGIS, Esri Drone2Map or Pix4D Training
Drone (UAS) Services Provided by Frontier
Not ready to own a drone system? Our UAS team can provide professional aerial drone services. Hire our certified, insured pilots to fly the job and provide high quality data deliverables. This is also a great way to get started with the latest technology under the guidance of our experienced pilots without the expense of owning the system until the time is right.
Multispectral Inspection Services
High Resolution Aerial Mapping
Image Classified and Feature Extraction
LiDAR and Photogrammetry Surveying
Legacy Products
Our Software Products Nearing Retirement or are Retired

The following is a list of our mosquito control software products that have been retired. Our current FieldSeeker Core (Larviciding with storm drain treatments, Surveillance and Service Request) and Windows ULV Adulticiding software are the migration path forward.
Please contact us to discuss your individual migration and data conversion plans.
Sentinel® GIS entered mature support in September 2018 and was retired December 31, 2020.
VCMS® and DataMaster® software are retired (formerly owned by Clarke and Electronic Data Solutions).