Mosquito and Vector Control Software
Frontier Precision provides complete office and field solutions for recording, mapping and reporting activities for all sizes of mosquito and vector control operations.
Our software solutions are location-based, which means interactive maps and apps are used for better decision-making processes. Share your insights with the world or specific groups.
Field and office tools for: Larviciding with Storm Drain Treatments, Surveillance and Service Requests.
FieldSeeker® GIS for Mosquito and Vector Control is a cloud-based system leveraging the Esri® ArcGIS® Online platform to provide users with simple, intuitive tools for finding, collecting and reporting data related to mosquito control activities. Field and office users benefit from seeing a common up-to-date picture of their operations. Data can be shared easily on the Web both inside and outside your organization using ArcGIS Online.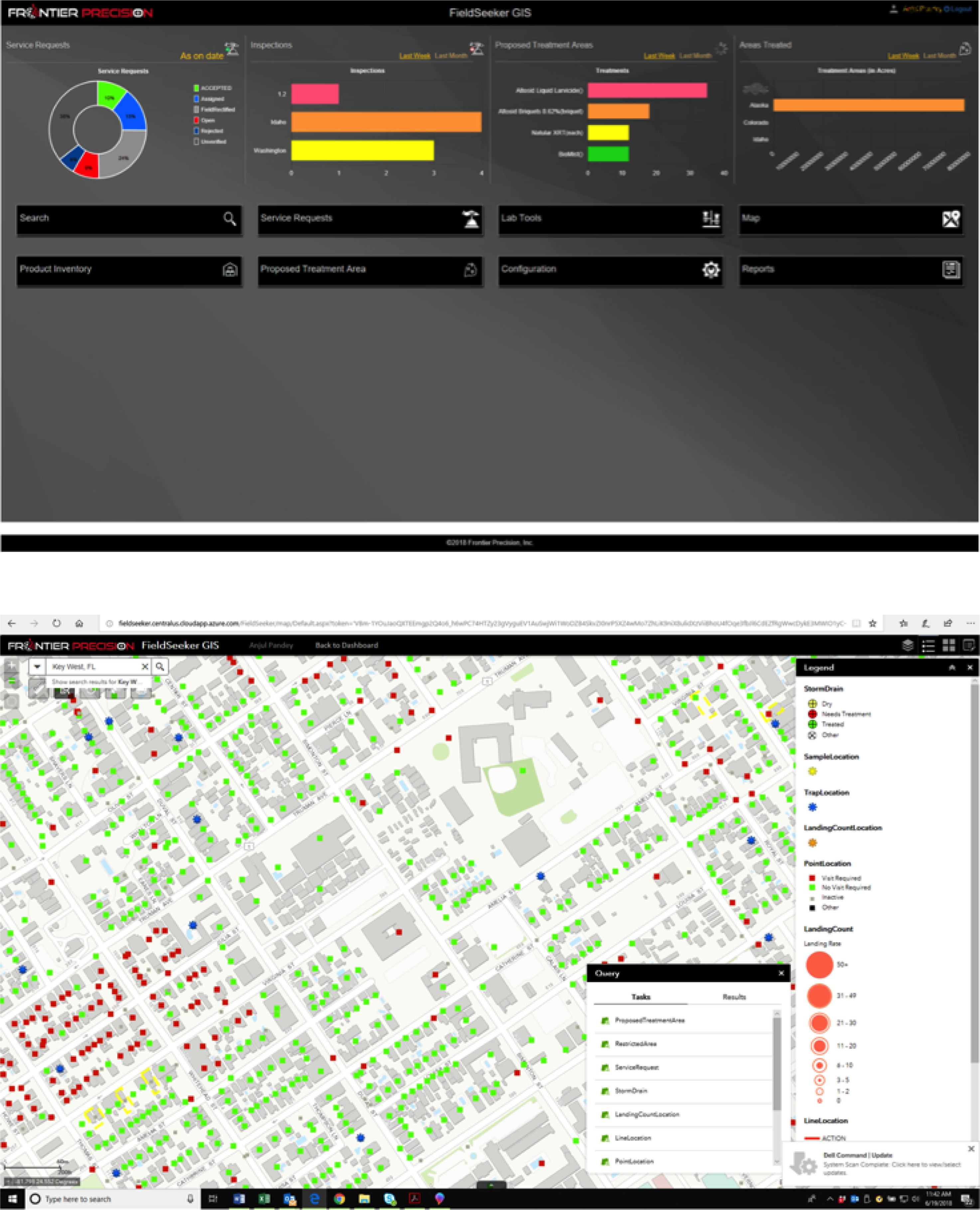 Mobile apps are provided through the Apple Store, Google Play Store, and Windows Store and include features for:
Field Inspections
Site Treatments
Treatment Calculator
On-Truck Inventory
Storm Drain Treatments
Q/A Activity
Field Scouting
Adult Mosquito Trapping
Landing Counts
Larval Samples
Service Requests
Navigation Directions
Proposed Treatment Areas
Restricted Areas
Search Options
Measurement Tools
Attachments
Misc. Activities
User Defined Fields
The FieldSeeker Office application suite is a Web app based on the Esri JavaScript API and includes: a dashboard landing page, targeted workflows for different user roles and, and improved analytics. Office workflows include system and pick list configuration, activity review, search / filter / query, product inventory, proposed treatment area management, map data editing, reporting, lab data entry, and service request entry.
FieldSeeker Core Benefits:
Directions available through phone and tablet navigation apps.
Helps track chemical inventory between warehouse and truck.
Choose between a variety of Esri base maps.
Real-time connectivity with off-line editing capabilities.

Special location types for aerial and ground proposed treatments areas, barrier/ULV spray treatments, and restricted areas.
Choice of mobile device – iOS, Android or Windows 10.

Easy deployment through the app stores.

App operates the same between device type.
Use ArcGIS Online apps to increase functionality and sharing of data.
Capabilities to import data from aerial spray systems, weather sensors, and counter traps.
Frontier's experienced staff handles technical aspects, freeing up agency personnel.

Automatic software updates.
Separate ULV Truck Spraying App and Public Notification Apps are available.
Office app uses Esri ArcGIS Online cloud-based system, an industry standard, dynamic platform.

Nothing to install, access from any computer.
Unlimited telephone, email, chat and web technical support.
FieldSeeker Windows ULV Adulticiding Extension
The FieldSeeker Windows ULV Adulticiding Extension is a standalone workflow for compatible sprayers with or without data output. Our new design incorporates sleek functionality along with the same sprayer collection engine that has been successfully used for over 10 years by more than 500 ULV adulticiding users.
Standalone office and Windows 10 field device software
Esri GIS compatibility, however no Esri licensing required
Use with Esri or other types of base maps
Restricted areas with "No Spray" warnings or instructional messages
Collect spray sessions from compatible sprayers with data output
Draw in treatment areas for other sprayers without data output
Line-based spray routes – visual guidance of predetermined route to field operator
Sync data wirelessly or through Google Drive or Dropbox
Frontier Public Notification App
Frontier's Public Notification app is a public outreach tool designed to facilitate communication to constituents and members of the public who are interested in interacting with mosquito and vector control and public health. It consists of a mosquito and vector control agency branded mobile app (for iOS and Android), a Web app for agency admins to manage the notifications, and an API for notification requests.
Public mobile users can download the free mobile app from the app stores and use to subscribe to selected notifications for selected areas of interest, submit service requests, view activity maps, and view news and updates. The mobile app will receive push notifications based on the user's subscription preferences.
Agency personnel use the Web app to manage news and updates, notification messages, notification "zones" or areas, and other system settings.
The API allows notification requests to be sent to the notification system from other systems such as FieldSeeker GIS or other compatible databases. The Web app and API are hosted by Frontier Precision.
GIS Services
The Esri® ArcGIS® location platform is an industry standard that offers easy ways to discover, use, make, and share the information. Esri keeps up with advances in Web technology, mobile computing, cloud infrastructure and service-oriented architecture. Frontier focuses on the advancement of mosquito and vector control workflows. Together we deliver a powerful solution for you to leverage in different ways.
Frontier Precision's GIS services group can offer innovative ideas extending other ArcGIS Online apps alongside the FieldSeeker GIS mosquito control workflows. We can help your organization achieve goals through focused consulting, configuration, implementation, training and technical support services.
Featured ArcGIS Online services include:
Integrating Service Request GeoForms with your external website, and allow the public to report on mosquito activity in their area.
Activity Status Web Maps can be utilized in a variety of applications to relay information to the public including: recent aerial or ground spraying activities, field inspections, open service requests, or the latest trap results or landing counts.
Operations Dashboards can be used for many common operational needs, including: mapping of activities, service requests, locations requiring actions, landing counts, aerial treatments, total site visits per tech or zone, total treatment area, and much more. Frontier personnel is also trained to implement the Esri Vector-borne Disease Surveillance & Control templates.
In general, any rugged professional field device, phone, or tablet that has GPS (and a 9-pin RS-232 serial port for ULV truck spraying) and meets minimum specifications can be used. We sell and support a limited number of devices, and we test additional devices. Given the profusion of phones and tablets, our approach is to list devices that have been tested and are known to support the FieldSeeker software. For a full list of devices, contact: mosquitosupport@frontierprecision.com.
Featured: Juniper Systems Mesa 2 Rugged Window 10 Tablet
The Juniper Mesa 2 Rugged Tablet can go with you into the harshest environments out there. Running Windows 10, the Mesa 2 brings powerful functionality to your mobile data collection, featuring a large 7-inch, extra-bright display for easily viewing maps or images, all-day battery power, and unmatched ruggedness.
Important for mosquito and vector control activities, the Mesa 2 has an integrated, high quality GNSS receiver and antenna which gives reliable positions in the truck cab. It also has an optional integrated RS-232 D-Sub, 9-pin connector for wired serial connections to truck spray systems with data output.
Standard features also include Wi-Fi for wireless data synchronization, integrated rear and front cameras, and 2-year hardware warranty with extended warranty options. An optional 4G LTE Verizon Network card is available real-time connectivity when using FieldSeeker. If you already have Mesa 2s and want to add the cell card option, a retrofit is available.
UAS Products and Services
Frontier Precision offers a variety of multi-rotor and fixed-wing drone solutions for mosquito and vector control applications. Whether you are interested in operating drones yourself or subcontracting a service provider to collect data for a project, Frontier can help you incorporate this exciting technology into your GIS visual surveillance workflows.
Frontier has certified pilots on staff and is licensed and insured to operate UAS commercially. One, two or three-day training classes are also available to help you or your staff become certified pilots and learn from scenario based training.
Since Frontier is a DJI Enterprise dealer, we have access to many models and accessories to configure a system for your unique needs. We've put together some packages to make it easy to get started.

DJI MAVIC 2 Zoom Starter Package
High quality image and video quality, economically priced.
Other options are also available for LiDAR and photogrammetry data, night and day long-range surveillance, and data deliverables.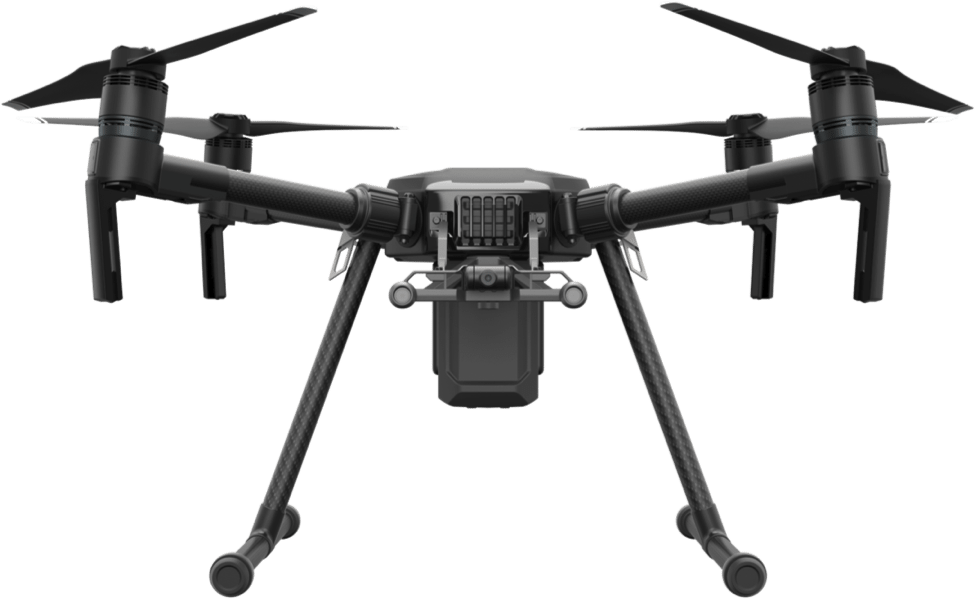 DJI MATRIC 200 Advanced Bundle
Fy in a wide range of environments with camera and payload options.
One Day: Part 107 remote pilot certificate training.
Two Day: Part 107 remote pilot certificate training and equipment and mosquito control scenario training.
Three Day: Part 107 remote pilot certificate training, equipment and mosquito control scenario training and advance scenario or Esri Drone2Map or Pix4D training.
Sentinel GIS will enter Mature Support in September 2018 and will be retired December 31, 2020. FieldSeeker GIS for Mosquito and Vector Control and the Windows ULV Adulticiding extension are the migration path forward.
CONTACT US

directly to discuss your individual migration plans.
LEGACY PRODUCTS – VCMS AND DATAMASTER
CONTACT US

directly so we may have the opportunity to discuss your individual migration plans.
Submit a Technical Support Request
Have a question? See our "Chat" option in the lower left corner!
We use cookies to give you the best experience on our website. Find out more information about our Privacy Policy.