In this installment, we'll help you understand some of our recent enhancements to FieldSeeker Windows ULV during the last 6 months or so.  But first, let's talk a little about our philosophy for evolving our software.
What are the sources for our enhancement ideas?
Customer Support – our support channel passes on bug reports, but also any enhancement requests that seem to make sense for more than just one customer
Internal Creativity – our internal resources (developers, analysts, product managers, QA, testers) also process bug reports and provide enhancement ideas of their own
Sales – our sales channel passes on ideas from association meetings, sales opportunities, bids, and specific customers
Platform Advances – our technology partners advance their platform and this produces new opportunities and challenges
We try to deliver the largest number of small changes for the most customers in ways that aren't disruptive to anyone else who isn't interested in using them.  For example, we make small changes to reports quite often based on user feedback.  We introduce new options that can be turned on through configurations.  Our basic approach is additive.  We may add an option, a new filter, a new column, or a new report.  But typically we don't take anything away.
We also try to introduce major new additions during most customers' off-season.  During the field season, we will typically only release bug fixes and minor changes.  For example, during 2021, we released v2.1 in March, which introduced work assignments, restricted area and PTA sync with ArcGIS Online; and v2.2 in May.  We had several minor version updates to correct specific issues coming from the support channel.
Overview
Create and edit route –this can now be done inside ULV Office, rather than only being able to import routes from a shapefile or ArcGIS Online.  Routes can include spray on and spray off sections.
RA warning disambiguation – that's a lot of syllables to say we've improved the behavior of restricted area warnings when there are several different ones nearby.  Multiple warnings will now be stacked and leader lines will be drawn to the features to indicate which warning goes with which.
Minor service request improvements – it's now possible to delete a service request.
It's also possible to close related requests for a given spray session.
RateKing support – we now support a new sprayer controller, the Micro-Trak RateKing, which is being used for roadside larviciding treatments.
CompassTrac AVL – we now support displaying truck locations in real-time using the CompassTrac AVL system.  This means any users of that system can view their vehicle tracking data in ULV Office along with spray session data.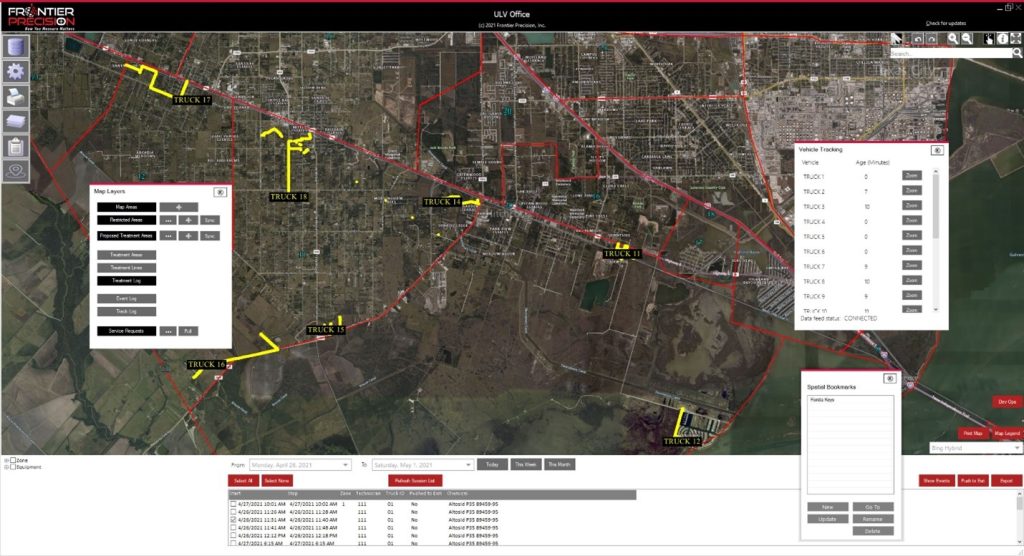 Coming Soon
New map control for mobile – users won't likely notice any immediate difference, but under the hood we'll be using a new map control with a longer support roadmap.
Adapco Monitor support – soon we'll be able to connect directly to Adapco sprayers.
Additional AVL systems – we plan to add support for other more widely available AVL systems in the future.
How to Get the Update
To make support updates and the delivery of new features easier for us and for you, we built auto-update into both the ULV Office and ULV Mobile software.  If you already have the software installed, simply Check for Updates.
If you are interested in seeing a demo or purchasing the software, Contact us today for information and pricing.
See our Software Roadmap for more details.
If you have questions, please contact us.
Linda Glover, Sales Manager, (208) 324-8006
Chad Minteer, Product Manager, (208) 595-1435
Tyler McGarrity or Chris McCabe, Technical Support and Account Management, mosquitosupport@frontierprecision.com, (208) 324-8006
Have an Idea?
Whenever you have an issue or software bug, we hope you are reaching out to support at https://support.frontierprecision.com or mosquitosupport@frontierprecision.com.  If you have an idea for a useful software enhancement, we encourage you to use our Community tools in our support portal to raise a topic or idea, discuss with us our your peers, or ask questions about what we're working on.  You can also discuss your ideas with our support channel during a "year in review" discussion, or at any time really.  We also encourage you to share a screen video or screenshots with an explanation in an email or community post.  All of these ideas get passed around and discussed.  Any enhancement request goes into our product backlog for consideration.  When something is requested several times, we bump up the priority and begin discussing and designing enhancements accordingly.