In just a few weeks, 19,000 professionals across industries will attend the Esri User Conference in San Diego for learning and networking opportunities.  Please make time in your busy schedule to stop by Booth 2027 to engage the Frontier Precision Mapping & GIS team who's ready to help you get the most out of geospatial technology.
Frontier Precision will be promoting different technologies and services during the conference, including services for GIS, mosquito/vector control, local government, transportation, UAS, 3D imaging, surveying and water resource applications.

Jump Start your Success with Taking GIS to the Field
Our Mapping and GIS team will be happy to visit with you about how to take the complexity out of high-accuracy GIS.  We have new Jump Start bundles designed to leverage our expertise, giving you guidance and best practices integrating GIS and GNSS technology with Esri Collector, Survey123 or Trimble TerraFlex software.
As a bonus – if you purchase a Jump Start bundle between now and September 30, 2019, you will receive a free DJI Tello Drone! This is a great way to try a DJI drone as part of your GIS program before investing in a more expensive professional system. Frontier is a DJI Enterprise dealer and has access to many models and accessories for your unique needs.
Professional Measurement with Laser Technology Rangefinders
Frontier is a Premier authorized dealer for Laser Technology, Inc. rangefinders used for field data collection for forestry, construction, GIS & GPS mapping, mining, utilities, telecommunications and natural resource management.
The LTI rangefinder system is also a valuable tool for UAV preflight inspections to know where to avoid flying to stay in regulation compliance as well as to fill in missing data caused by obstructions.
Check out one of these Esri sessions to learn more about combing ArcGIS field apps with GNSS receivers and laser measurement solutions:
Integrating Laser Measurement Solutions with ArcGIS Mobile Apps
Survey123 for ArcGIS: Advanced Topics
UAS & Land Mobile Imaging Technologies
One side of our booth will be dedicated to the latest land mobile imaging and scanning solutions along with the latest unmanned aircraft systems (UAS).  We will feature the following companies with factory personnel on-hand: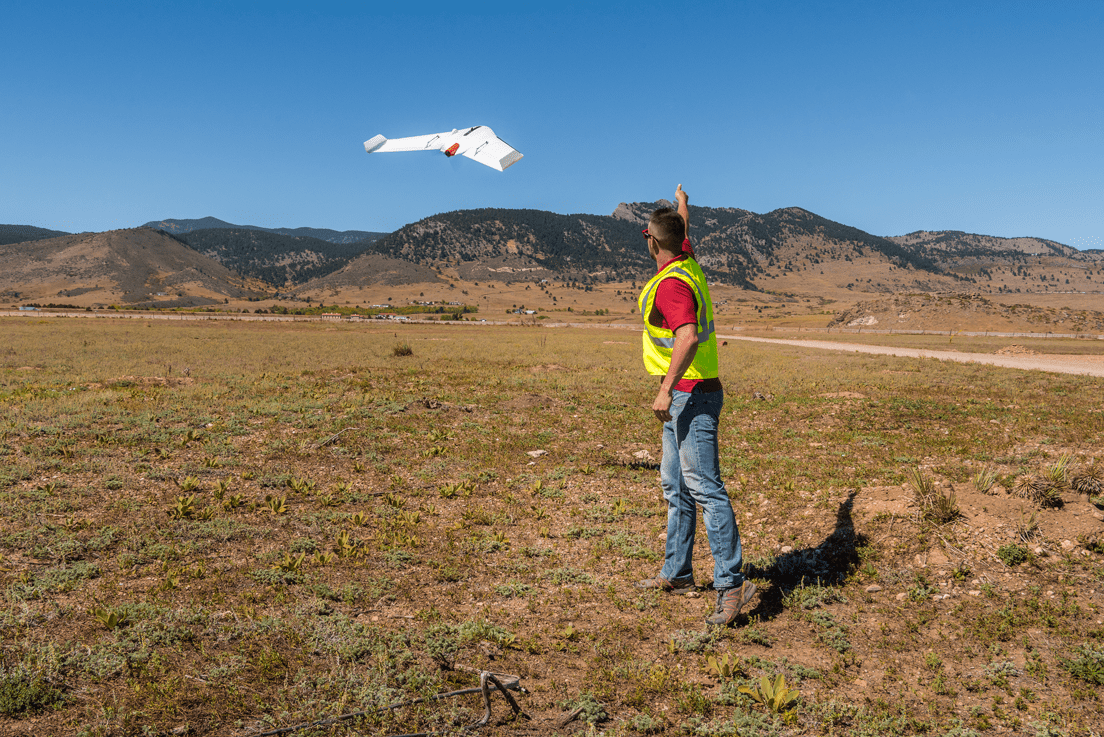 Delair — a leader in professional UAVs, provides aerial-imagery-based data to help industries make informed decisions. Experts in both long-range UAV manufacturing and data processing, Delair delivers end-to-end solutions, from data acquisition to business analysis.
Join Delair and Frontier for a Lunchtime session to discover a streamlined drone-to-cloud workflow involving the Delair UX11 UAV with PPK and the Delair Aerial Intelligence platform for both small and large-scale drone programs:
UAS Mapping SIG: A Drone to Cloud Workflow that Scales, Lunchtime Session, Wednesday, July 10, 11:30a – 12:30p in SDCC – Room 28D.  Box lunches provided while supplies last.
GeoSLAM – is a market leader in 3D geospatial technology solutions.  The unique "go-anywhere" technology is adaptable to all environments especially spaces that are indoor, underground or difficult to access, providing accurate 3D mapping without the need for GPS.  Within minutes you can build a highly accurate 3D model of any environment.
Mosquito and Vector Control Solutions
Frontier's FieldSeeker GIS for Mosquito and Vector Control software is a cloud-based system leveraging the Esri ArcGIS Online platform to provide users with simple, intuitive tools for finding, collecting and reporting data related to mosquito control activities.  Field and office users benefit from seeing a common up-to-data picture of their operations.  Data can be shared easily on the Web both inside and outside your organization using ArcGIS Online.  FieldSeeker Core includes apps for Larviciding with Storm Drain Treatments, Surveillance and Service Request.
The FieldSeeker Windows ULV Adulticiding Extension is a standalone workflow for recording truck spraying sessions. Our latest software release adds support for pushing spray data to an Esri feature service.  This means that truck spray data can be pushed to FieldSeeker Core apps and viewed along with other operations data.
If you are looking for more interaction with the community, there is a new Public Notification app. The Public Notification app is a cloud-based system and comes with a web app, which district personnel uses to manage information provided to the mobile app.  Residents can download the free Apple or Android app and subscribe to receive notifications for their specific area.
Northwest GIS User Group Meetup
Frontier will be a gold sponsor of the NWGIS User Group meetup. This is a great opportunity to socialize with other GIS users in your area. This will be held on Tuesday, July 9th from 5:30 to 8:30 at Tin Roof, 401 G Street. Be sure to stop by our Booth 2027 during the day on Tuesday for a free drink ticket to use at the NWGIS Meetup.  Bring your Esri UC badge to the Meetup for a chance to win a DJI Tello Drone from Frontier!
Geospatial Hardware
We will have the latest gear on display at our booth including the following:
Trimble new TDC150 integrated high-accuracy GNSS receiver with Android operating system
Trimble new TDC600 all-in-one GNSS data collector and smartphone with Android operating system
Trimble R1 and R2 GNSS receiver are external receivers that can connect to Windows, iOS, and Android
Laser Technology laser rangefinders for reflectorless field measurements
Juniper's Mesa 2 tablet is a ruggedized Windows 10 tablet
Juniper Geode GNSS receiver is an external receiver that can connect to Windows 10, Android, and soon iOS
GeoSLAM's handheld laser scanner is lightweight and maps highly accurate 3D modeling which can be used in Esri products
Trimble MX7 Mobile Imaging system for documenting site conditions with geo-referenced images.
Delair UX11 and UX11 Ag drone solutions for highly precise and easy mapping
DJI Drones – many models and price points available
Frontier's Unique Perspective
Take advantage of our unique perspective on how to best get data to the field and back.  We will be happy to assist you with any upcoming product sales, rentals, professional services, training, technical support and repair services.
For more information, email Linda Glover, GIS Sales and Services Manager at Frontier Precision, Inc.