In our last post, Simplifying your GIS – Data Management, we expressed the importance of data management and ways in which you can create a solid foundation for your GIS. In this post we will build upon using that structure and how we can share you newly implemented system of records and turn it into a complete system of engagement.
There have been many topics published on this, but we still feel it's an important part of strategy when working to attain your GIS objectives. Data management establishes structure in how your data is stored, but it's also crucial to lay out the needs of engagement with your GIS. Who needs access to the data, and what roles will they play in engagement and management? It's imperative to have a strategy in place to outline who needs access to information for budgeting of licensing.  Data and information can be shared internally at your organization, with other organizations or with the public.  This is an important topic as we see many users who are avid GIS users but are still sharing data as shape files, via email. Is this a wrong practice, well, no? However, if you are managing or working with more than a handful of layers, then a structured system for sharing data is imperative. The process of sharing shapefiles, editing, updating them and manually building them back into your GIS can be streamlined.  This may be in the form of a Personal or File Geodatabase with a small work group, or a multi-user Enterprise system incorporating your organization's relational databases, a server to channel data through Esri's Web GIS portal.    Each has its own strengths and weaknesses depending upon application. One thing that has become available in recent years is access to simple-to-use Web GIS platforms such as ArcGIS Online.
Web GIS and Enterprise licensing isn't new with Esri, but they have taken this to a new level with ArcGIS Online. This platform is really taking that model and making Web GIS accessible to everyone. Anyone with current Esri ArcGIS Desktop licensing has web GIS capabilities available to them!  Data is hosted online through secure cloud storage.  User accounts are managed by Esri and are scalable pending upon who needs access to the data. They offer users the option to have full editing capabilities to add new and modify existing information.  They also offer a viewer only option to publish web maps. There is a wide range of access to pre-built tools and apps that solve the task of having to custom develop for every need. This benefit alone has saved many hours of development as it provides a foundation to channel data and information to the people who need it.
The City of Buhl, ID is an excellent example of how web GIS has changed the way data is gathered and distributed. The City uses ArcGIS Online to host and manage all GIS data with only backup data being stored locally.
The Public Works department has used Esri's Collector app to log Code Violations, Street Signs, and Water and Sewer assets in a short amount of time. They are also using ArcGIS Online to easily run code violation reports at the end of the month. This report now only takes a couple minutes to generate rather than sifting through a stack of paper forms.  The Public Works director uses a simple Story Map (shown below) on his tablet in the field to easily check in on the status of all these things in his department.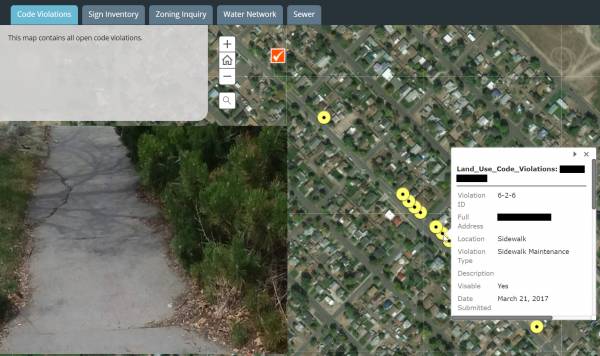 Another example is Comprehensive Life Resources – CLR, a non-profit that provides behavioral health services to the Tacoma and Pierce County community. Web GIS has changed the way the programs surrounding homeless outreach collect, analyze and share information. Survey123 is used by field workers rather than paper forms, and the data feeds directly into the web GIS. A publicly-shared web map allows users to find nearby services, and an application built on this map will allow users to request assistance.
View larger map
The tools are made available due to Web GIS.
In our next blog post, we'll outline some of the applications that have been built to allow CLR to quickly analyze the large volumes of data being collected and make quick decisions based on real data.
by Jacob Wittenberg and Alison Walker