The delivery of adequate water to a fish hatchery can often mean the difference between healthy fish and loss of life. Recently, the Utah Division of Wildlife Resources reached out to Frontier Precision looking for a system to measure water coming into one of their hatcheries and alert personnel if water levels were too low or too high in an elevated chamber, called a chimney, that is used to pressurize the gravity flow of water to hatchery raceways and ponds. If too many gates that feed distant raceways are opened and out-going water exceeds water flowing into the hatchery, eventually raceway water levels get too low and fish suffer. If too many gates are closed or turned down at the same time and too much water is entering the hatchery then the water level in the chimney over-tops and risks flooding an adjacent building.
To help the hatchery with their water balancing act, Frontier Precision responded by providing and installing a datalogger with integrated Verizon 4GLTE cellular modem and a digital pressure/temperature sensor. The complete systems is battery/solar powered so that water levels can be measured and alarms sent out even during a power outage.
A program was developed where the sensor is measured every 10-seconds and the measured water level is compared to high and low set-points entered by hatchery personnel. If the measured water level leaves the bounds bracketed by the setpoints, hatchery personnel receive an e-mail and a text message within 15-20 seconds. From this early alert they can act quickly to stabilize the water in the chimney.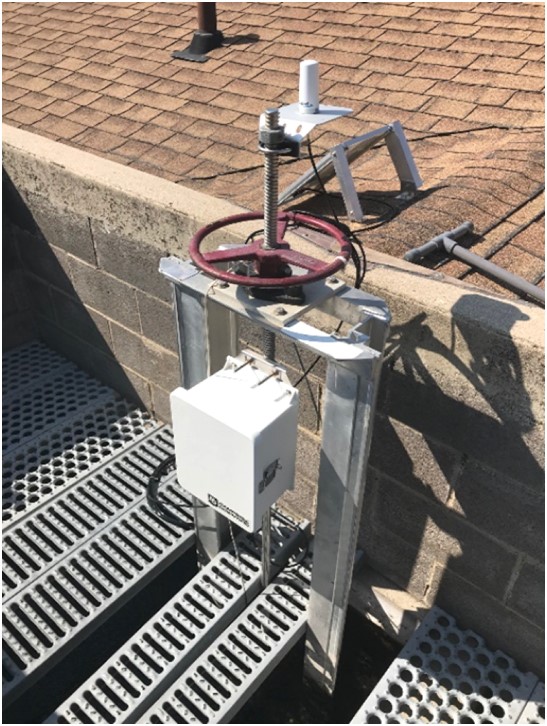 Moreover, hatchery personnel can now view the water levels in the chimney in near real-time. In the past, setting correct gate positions required two people, one at the gate and another atop the chimney. The staff would shout back and forth making sure that the water level in the chimney stayed at the same level after making adjustments to gates. With the new technology, one person can make adjustments to remote gates while viewing the water level on a smart-phone app.
Frontier Precision can help you with instrumentation for you water level, water quality and flow measurement needs. For more information  contact Steve Combe, 801-791-3407 or Martin Soto, 208-324-8006 or visit www.frontierprecision.com/water_resources.