For the first time in history, Esri's user conference was held virtually this month with outstanding attendance. They presented many new software enhancements and announced the new ArcGIS Field Maps app. This new app announcement has been buzzing in the GIS industry ever since. If you missed the conference session on ArcGIS Field Maps, here is what you need to know.
ArcGIS Field Maps is a new app being developed by Esri that is going to combine the functionality of Collector, Explorer, Tracker, Workforce, and Navigator into one app. This will eliminate the need to configure and manage multiple apps that are connected to the same web map and data source. You will have one app to collect data, mark the map for errors, or simply navigate a route. A new smart forms enhancement will be added to the app to make your data collection process simpler and more data driven. This app is currently available for beta testing and Esri has stated that the release of Field Maps will come in phases. Below is a description of each phase.
Phase 1: Combining Collector, Explorer, and Tracker
This first phase is going to combine the functionality of Explorer, Collector, and Tracker. You will have all the current data capturing functionality of Collector plus the ability to markup the map and track users' locations. The one enhancement coming to this release will be new smart forms on the ArcGIS platform. These forms will be stored within your map to enable more building capabilities across the web and desktop platform. The planned release date for this phase is September 2020.
Phase 2: Workforce
A new To Do list will be located in your map with a web app that will enable you to create and assign tasks. No release date has been announced for this phase.
Phase 3: Navigator
The last phase is going to integrate navigation for turn-by-turn directions right inside the app without having to push the location to consumer apps like Apple Maps or Google Maps No release date has been announced for this phase.
I, like many of you, joined the beta testing group through Esri's Early Adopter program. If you haven't join yet, you can check it out here. The smart form builder is currently in a private beta and not accessible through the Early Adopter program. Only the Field Maps app is available for testing. Here is my personal beta testing experience with a high accuracy Trimble receiver.
The app is built mostly on the Collector coding leaving the user interfacing looking almost exactly to what your familiar to interacting with. Being a trainer, this will make the transition easier on your field data collectors.
The Trimble SDK isn't fully enabled in the beta yet, it's coming soon and will be announce through the beta documentation. For my testing, I used the location sharing from Trimble Mobile Manager to get the R1 location into Field Maps. A full description of those steps can be found here.
The data collection steps are the same as Collector. All the data editing and navigating to feature options are available in the feature pop up..
From the map menu, you will see the new Markup option. This will allow you to draw on the map. Each markup line will allow you to enter a label and note. You do have some visual option to add an arrow to the line or change the color of the line.
Where maps will be both editable and read-only, there is a setting in the search that will let you filter for each view type.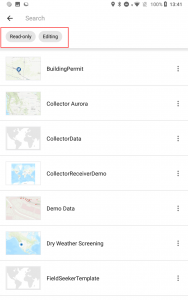 Mobile map package that are created in ArcGIS Pro and published to ArcGIS Online can be downloaded directly to the device. These map package will be read only.
Field Map FAQs
What will happen the existing field apps?
Development for Collector, Explorer, Tracker, Workforce, and Navigator will be stopped once their Field Maps phase is released. As of right now, Esri is planning on removing the apps approximately 6 months after their phase is released. Esri will officially announce the end of life dates for these apps as the phase releases progress. Training material and help documentation will be provided in advanced to help you adopt and migrate your current maps and apps to be compatible with the new Field Maps.
Will Survey123, QuickCapture, and Drone2Map be included?
No, these are specialty apps that will remain as standalone app.
Will the Field Maps app be released simultaneously on Android and iOS or will iOS come first and Android second like the Collector Aurora release?
As of now, Esri is planning to release Android and iOS Field Maps app to their respective app store simultaneously.
Will there be a change in licensing?
Field maps will not have any addition licensing fees and will honor all current user types and privileges.
What Trimble devices will be supported?
The external receivers that will be supported are the R1, R2, R10, EM100 (Android Only), and Catalyst. The Android devices that will be supported are the Nomad 5 and TDC 600. The TDC150 and TDC100 won't be support as this new app will require Android 8 and these devices are stationary at Android 6.
Will the Juniper Geode be support?
Yes.
Can I beta test with the Trimble and Juniper receivers?
Yes. Installing the Trimble Mobile Manager app will be required for Trimble receivers on both iOS and Android.