NEW! Line-based Spray Routes
In version 1.5 we introduce simple support for line-based spray routes.  The mobile software will display the given route while the field operator does a spray session, providing visual guidance on where to start, where to turn the sprayer on and off, directional arrows, and where to stop.
The driver can preview a spray route before starting a spray session.
When starting a spray session, the user can select the route to display; only that route will draw on the map.
The office software has tools to import and view the spray routes.  Data Utilities now has an option to import spray routes from shapefiles.
When importing from a shapefile, the shapefile name will be used as the Route Name.  The shapefile can have multiple line features, which will be treated as segments of the spray route.  The first vertex of the first line feature will be considered the Start point, and the last vertex of the last line feature will be considered the Stop point.  Directional arrows will display (on the mobile) based on the order the line features were drawn when they were created.  The only attribute that will be imported is FOGGING (short integer indicating On (1) or Off (0)) if it exists.
After spray routes have been imported, they can be selected and displayed by clicking the ellipsis button above Spray Routes then selecting which routes to draw.
You can select individual routes, or groups of routes using Shift + Select or Ctrl + Select, or you can select all.  You can also type a route name in to find it more quickly then select it.
The map automatically zooms to the extent of the selected routes, with a labeled bullseye for Start and a Stop sign for finish.  Blue segments are where the sprayer is on, orange where the sprayer is off.
We recognize that not everyone uses line-based spray routes, so this configuration is off by default.  The option is enabled in Configuration > SprayRoute.  Click Configure to turn the option on.
Simple spray route support is explained – spray routes are visible on the map with symbology for spray on/off, start and end points, and directional arrows, but no warning tones are generated on the mobile.  Also, spray routes can only be imported from shapefiles, they cannot be created or edited in ULV Office.
If simple spray route support is turned on, you can also specify an import shapefile path.  This is the path where the spray route shapefiles to be imported are found.  To import shapefiles, go to Data Operations > Utilities.  (see that section for more details)
Quality Improvements
In addition to the new line-based routing feature, we've also added some quality improvements in the 1.5 release.
Improvements to the no spray warning system, including faster performance on doing proximity checking, more accurate handling of map projections, and proper use of the user-configured no spray distance setting
Improvements to the sketching tools process and data handling
Online basemap tiles are no longer displayed if offline basemap is loaded
How to Get the New Version
To make support updates and the delivery of new features easier for us and for you, we built auto-update into both the ULV Office and ULV Mobile software.  If you already have the software installed, simply Check for Updates.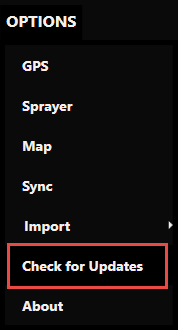 If you are interested in seeing a demo or purchasing the software, Contact us today for information and pricing.  Upgrade pricing is available for existing Sentinel GIS, FieldSeeker, and DataMaster users through December 2019.  Your purchase comes with one year of included software maintenance, so you'll receive updates as they are made available through the auto-update feature.  We have lots of exciting things planned so don't miss out!
Sales questions and quotes – Linda Glover 
Technical questions and updates – Chad Minteer